York Green Drinks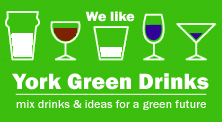 York Green Drinks has stopped
For various reasons York Green Drinks stopped meeting in 2015.
As of 2016-17 two similar initiatives started in the city, which perform a similar function so we'd like to invite you to join them instead:
One Planet York Mingles - meet once a month, usually on the 2nd Wednesday. If you're keen to help create a city which has a thriving local economy, strong communities and a sustainable way of life over a drink in a friendly atmosphere, then this is for you. The next mingle will be held on 8th March 2017 at the Winning Post. Come along to share ideas, catch up on future plans and collaborate. The One Planet York initiative is currently led by City of York Council but mingles are hosted by representatives of member organisations and will soon have its own mailing list. In the meantime you can contact ivana@stnicks.org.uk for more information.

Should neither of these options appeal to you and/or if you would like to resurrect York Green Drinks, please contact ivana@stnicks.org.uk.
Please note that the email address greendrinksyork@googlemail.com and 'York Green Drinks' on Facebook are not currently monitored on a regular basis.