Toronto Green Drinks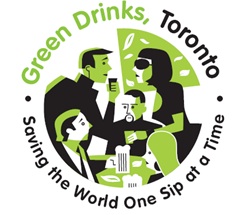 Come Celebrate Earth Day with
Green Drinks Toronto and Earth Day Canada
Tuesday April 22nd - Earth Day
at
Rock "N" Horse - The home of Toronto's only mechancial bull
250 Adelaide Street West From 6:30 to 10:00
Tickets must be purchased in advance and include one drink
This exciting event will feature:
Gordie Wornoff - A dumpster-diver, "freecycler" and a second generation carpenter, you know Gordie Wornoff from his appearances on the Canadian reality series " Junk Raiders" and as the Earth Day Hometown Heroes Award Winner for his small business "A Higher Plane"
The Water Brothers - Hosts of TVO's eco-adventure documentary series The Water Brothers, Alex and Tyler Miffina re passionate about the subject of water conservation circling the globe to bring back stories that affect, inspire and educate viewers.
Link to tickets:
https://www.eventbrite.ca/e/earth-day-party-2014-tickets-11089915235
This event always sells out so be sure to purchase you tickets soon.
Check out our video from our 3rd annual Earth Day event at the CN Tower
http://www.youtube.com/watch?v=K4NJn3v8k_4

Keep up to date by joining our e-mail list
.
Email Marketing You Can Trust
WHAT:
What is the Green Drinks Toronto recipe?
A jovial mix of environmental professionals and Torontonians interested in the environment + a few pints (or non-alcoholic drinks!) = A relaxed and agenda-free evening of enviro-meeting and greeting.
Green Drinks International started in the UK in 1989 and has rapidly become a worldwide event. Drop in and you'll be made welcome. Just say, "are you green?" and we will look after you and introduce you to whoever is there. It's a great way of catching up with people you know and for making new contacts.
Toronto Green Drinks started in June 2005 and has attracted hundreds of environmental professionals and interested residents to our monthly gatherings. Our average attendance ranges from 200 to over 350 people a night and it's a different group every month... definitely not cliquey!
RSVPs:
RSVPs are not mandatory! Feel free to drop in and bring friends or colleagues.
CONTACT:
Questions? Comments? Suggestions? Want to be on our e-mail list? E-mail Pete Koepfgen and Jim Lord at greendrinks@gmail.com
PHOTOS:
Assorted photos from Green Drinks in Toronto. Have some that you want to submit? Just email them to us!