Lincoln Green Drinks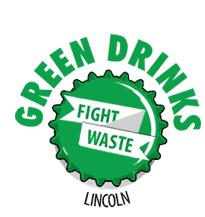 The Lincoln chapter of Green Drinks has been meeting since 2006. We now meet irregularly instead of regularly meetings in Lincoln on the even months (February, April, June, August, October, and December).
We would like to meet more often, please let us know your ideas.
Our next Lincoln meeting place has not been determined.
You can also stay abreast of the Lincoln (and Omaha) Green Drinks meeting on FaceBook.
You'll find us sporting our freshly applied Fight Waste! tattoos.
If you have any questions, feel free to contact Rick Yoder at 402.554.6257 or email him at ryoder [at] mail [dot] unomaha [dot] edu
If you would like to be notified by email of the upcoming Green Drinks events, you can add your email to a notification only email list maintained by P2RIC by sending an email to GDsubscribe [at] p2ric [dot] org . Please be sure to include the words "Green Drinks" in your request to subscribe to the email notification list.